What Does a Computer Support & Consulting Firm Do?
Firefly Network Services advises on, installs, and supports any technology in your office.  We provide Chicago's small law firms and small businesses with technology support services for their servers, computers, tablets, cell phones, faxes, printers, and any other technology.  We also take care of the software that drives their business.
Businesses with over 50 people usually have their own IT department, but it doesn't make financial sense for small businesses in Chicago to have their own IT staff.  We step in to fill that gap by providing professional outsourced computer support services for your Chicago small business.
Outsourced computer support does not mean you will be forced into an impersonal help desk solution.  We take a different approach; each client works hand in hand with their own personal technician.  We use remote access software to achieve our 3-5 minute response time.  However, we are happy to come into your office if you need us.   We are in the heart of the loop at 141 W. Jackson, so we are never far away if you need help.
The Three Reasons Why Clients Love us.
We have a 98% client retention rate and we do this with no contracts.  The secret of our high customer loyalty is simple: fast response time; zero unresolved issues; and personalized service.  This isn't just marketing material for us, these are the core tenets of our business.  The owner of the company constantly follows up with his technicians and clients to make sure we are hitting our goals.
3-5 Minute Response Time

All computer issues are important to users and we treat them as such.  Even something as simple as a broken mouse can cause lost productivity.  We respond requests for support in 3-5 minutes.  We can usually take care of most issues remotely.  However, some problems must be resolved on site.  Fortunately, this isn't a problem.  Our office in Chicago is located in the heart of the Loop at 141 W. Jackson.  We are usually only a quick cab ride away.

Zero Unresolved Issues

We believe that your technology should be transparent.  You shouldn't have to fight with your technology to do your work.  Unresolved issues are frustrating.  One of the biggest complaints with new clients is that their old IT consulting firm was unable or unwilling to resolve all of their issues.  We believe that all issues can be resolved.  To meet this goal, we use an internal system to track support resolution times to make sure that all outstanding issues are resolved promptly.  Each ticket is followed up on by the owner of the company to make sure that everything is being properly resolved.

Personal Service - 24/7

We don't believe in help desks because you shouldn't have to work with an anonymous tech not personally invested in your business.  Each of Firefly's client are assigned their own personal tech backed up by a second-tier tech.  This system is ideal because the tech providing support already knows how you work and understands your network when you reach out for help.  It saves a lot of time on when trying to resolve a problem.

We have also found this working relationship helps us to proactively provide solutions that fit your workflow.
What We Do To Keep Your Users Running Smoothly
Just because you are a small business does not mean you have a simple network.  Small businesses use the same software and most of the same hardware as the large offices.  The only real difference is scale.  We treat each client, even the single users, as if they were an enterprise sized business.  We bring the same level of experience, training, and professionalism you would expect to see from the top tier of an in house IT support department.
Desktop Support

Microsoft Windows is at the core of each user's daily tasks.  If Windows isn't functioning smoothly the user isn't as productive as they should be.  We make sure that each machine is patched and secure.  We also make sure that the machine is running smoothly without any freezing or errors.  We also give training where needed to help users get the most out of Windows.  We also support Apple's OS X

Software Support

An office can't function without productivity software.  We support and maintain just about any piece of desktop software out there.  We support all word processing suites including Microsoft Office (Word, Excel, PowerPoint, Visio & Access), Wordperfect, and Open Office.  We also support the Creative Suites including Quark and Adobe's products: Photoshop, Bridge, Acrobat, Illustrator, Dreamweaver and InDesgin.  We also support accounting programs such as Quickbooks, TABS3, and Sage.

Legal Software

Chicago's law firms depend on a number of programs and we support just about all of them.  Case management: AbacusLaw, Amicus, Credenza, CaseMap, Firm Central, PracticeMaster, Prolaw, and Time Matters.  Time and Billing: most cloud providers as well as Juris, PC Law, Sage, TABS3, and Turbolaw.  Document Management: Worldox, Autonomy Worksite (iManage), NetDocuments, and Prolaw.  Discovery & Litigation: Concordance,  Logicull, Law Prediscovery, Prolaw, Summation, Worksite Docketing & Calendar: PC Law and Time Matters.

Peripherals & Phones

Communication is critical for most small businesses.  We provide support for VOIP phone systems.  It doesn't matter who your vendor is we can support almost all of their systems.  We also support Andriod, Blackberry, and iPhone cell phones and their respective tablets.  We will setup  your devices to communicate with your email server and even set them up to log into your desktop for remote work.  We also help you find the right apps to fit your business.

Remote Access

Whether your like to work from home or from a remote office, we will make sure that your connection to the office easily accessible, secure, and always running.  We aren't tied to one method of remote access, instead we work with what is best for you.  Depending on your needs, we will setup and support Virtual Private Networks (VPNs) and Remote Desktop (RDP).  We also work with software solutions like GoToMyPC, TeamViewer, LogMeIn, TightVNC,  or Join.me .
What We Do To Keep Your Office Running Smoothly
An office network's stability and long term viability depends on back end equipment.  This equipment ranges from mail and file servers to the networking and switching equipment that connects them.  There are several key issues to be addressed to keep the back end of your office running smoothly.  The first step is to make sure that all servers, networking equipment, and firewalls are properly maintained.  Second, security should be properly planed out and implemented.  Finally, there should be a thought out multi-tiered disaster recovery plan in play.
Server Support

Servers are at the heart of every business network.  Many IT consulting firms use automated programs that alert them if something is wrong with the server.  The problem with such solutions is that by the time a problem is detected it is already to late to stop an outage.  We take a more hands on approach.  We keep servers patched, maintained, and review error logs whenever we log in.  This helps us to find problems much earlier and we are able to stop problems before they start to snowball.

Email Server Support - Spam - Mail Bagging - Remote Access

Most businesses can't function with email.  In addition to actively maintaining your mail server, we also make sure that you only receive the emails you want to read.  We work with many different spam filtering services to make sure that bulk emails don't get through.  Also, we make sure that that your domain name records are locked down and setup properly so that you don't get put on blacklists.  We also use mail bagging services that will hold in coming emails in the event that your mail server or internet goes down.  Finally, we make sure that your email is accessible outside of the office.   Whether that is on your phone, tablet, or home PC.

Backup and Disaster Recovery

The Gartner Group maintains that "43 percent of companies were immediately put out of business by a "major loss" of computer records, and another 51 percent permanently closed their doors within two years — leaving a mere six percent "survival" rate"  How long could you survive without your data.  For many reasons, an in house or cloud based backup system is simply not enough.  We take a multi-tiered approach.  The first tier is a local bare metal backup that allows us to restore your server to the last backup.  We also use cloud based backups in the event their is an issue with the local backup and to make sure that you could survive if something where to happen to your facility.  Finally, we can also implement a server fail-over system.  That is if your server fails we can immediately have you back online on a redundant server.

Support and Manage Your Wired and Wireless Network

For the most part wired networks work flawlessly, if they are configured correctly.  We do traffic shaping to make sure your work data takes precedent over users doing such things as streaming music, browsing Facebook, or downloading photos.  We can also do content filtering to filter out no work related sites.  We also make sure that your wireless network is locked down and that bandwidth is properly allocated so that you have the proper bandwidth allocated to your company's wired network.

Secure Your Office Network and Seamlessly Encrypt Secure Communications

Office security starts at the firewall and moves all the way down to your end users.  Many firewalls are not properly configured.  We make sure that they are setup correctly.  We also make sure that file servers, switches, and workstations are protected for external threats.  We also help educate users as to safe browsing and other security procedures so they don't unwittingly compromise your network.

Manage and Streamline Your Cloud Services.

Cloud services are part of the business network environment.  They help to reduce costs and improve availability of services.  However, there are also downsides such as not having enough bandwidth, a bad internet connection, and no tech support.  We will help you navigate your options and help you to implement any solutions.
Street Address

141 W. Jackson, Suite 1506
Chicago, Il 60604

Email
Why It Matters That We Were Founded By an Attorney
Every company has technology needs that are specific to their industry and this is especially true for law firms.  The main technological differences between law firms and other small businesses is how much their practice relies upon specialized software.  These tools include document management, electronic discovery, case management, time & billing, presentation, litigation support and docket management software.
Since our business was created to by a lawyer we understand the purpose of this software and how central it is the keeping the law firm functioning.
In addition to understanding the day-to-day operations of law firms, we also understand your practice as a whole.  We understand the importance of secure communication to protect client confidentiality, the importance of the docket, why it is important to scrub meta data from emailed documents,  we even understand the implications of the phrase "I'm on trial next week"  We usually clear our calendar for that last one.
Why We Only Work With Businesses from 1-50 Users
Businesses under 50 people have the same technology needs as larger businesses.  They use the same server software, desktop applications, and have the same need for remote access.  Unfortunately, budgetary concerns often prevent them from hiring full time staff to support their technology.
We enjoy working with small businesses.  They are often more forward thinking, dynamic, and technologically progressive than larger companies.
Unfortunately, they often cannot find a computer support firm that can meet their needs.  Often consulting firms will shun their smaller clients in preference for their larger clients.  Worse yet a company will be serviced by a one man operation who is often stretched too thin.
One of the main reasons why we choose to work only in the small market is that we enjoy the relationships we develop over with our clients.   We feel like we are making a difference.   Many of our clients have been with us for over 16 years.  You have to be doing something right to have relationships that last that long.
About Don Brown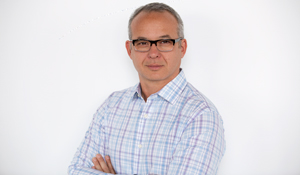 Don Brown, a licensed attorney, has been providing IT support for over 16 years to small law firms throughout Chicago. He designed Firefly Network Services to provide his clients with IT services typically only accessible to top tier firms.
Firefly's core competency includes personalized support with no help desks, 24/7 availability, 3‐5 minute response time, and no lingering issues.
His company services a variety of clients including a former US Ambassador, high‐profile litigators, and the Chicago Bar Association.
What We Are Writing About